Mrs. Dash – Many Sizes Many Flavors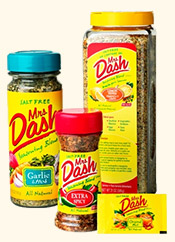 Mrs. Dash comes in a number of varieties and pack sizes to meet your foodservice needs.
Our PCs (portion-control) are a great way to offer America's #1 brand of salt-free seasoning in a convenient, pre-portioned package, suitable for tray feeding, grab-and-go meals or condiment stations.

 

We have two tabletop sizes - 2.5 oz and 6.75 oz - perfect to place next to (or in lieu of) salt and pepper shakers.

The bulk sizes serve as an ideal product for your high-volume needs such as making recipes back of house. (Bulk sizes include the convenient 21 oz shaker bottle for spice racks or 50 lb bag-in-a-box for larger batches.)

So whether the need is adding bold flavor to recipes back of house or giving your customers their own seasoning options front of house – Mrs. Dash is available to meet your needs.
Mrs. Dash Original Blend
An all-purpose, versatile blend of 14 savory herbs and spices including onion, black pepper, parsley, basil, orange peel and tomato adds flavor excitement to any dish.

For more info, ingredients or nutritional fact, select a size:


PC

|

2.5 oz

|

6.75 oz

|

21 oz

 

 

 

Mrs. Dash Table Blend


Ditch the salt and bring flavor back to the table.

A finely ground blend of 14 savory herbs and spices including onion and cracked black pepper.

For more info, ingredients or nutritional fact, select a size:


PC

|

2.5 oz

|

6.75 oz

 

 

 

Mrs. Dash Garlic & Herb
A savory blend of zesty garlic mixed with herbs and spices, including oregano, parsley and freshly ground black pepper, adds flavor excitement to poultry, beef, pasta, or bread. 

For more info, ingredients or nutritional fact, select a size: 

 

 

 

Mrs. Dash Lemon Pepper
Zesty lemon peel, blended with cracked black pepper, coriander, oregano, and other spices makes your favorite chicken and fish recipes livelier.

For more info, ingredients or nutritional fact, select a size:


2.5 oz

|

21 oz

 

 

 

Mrs. Dash Extra Spicy
A bold blend of spices, including red bell peppers, black pepper and chili peppers combined with onions, paprika and tomato adds pizzazz to pizza, pasta, chili, burgers, chicken, or steak.

For more info, ingredients or nutritional fact, select a size: 

 

 

 

Mrs. Dash Tomato Basil Garlic
A robust blend of vine ripened tomatoes, sweet basil, roasted garlic, and other Italian spices adds rich and authentic Italian flavor to your favorite pastas, breads, appetizers or sauces.

For more info, ingredients or nutritional fact, select a size:


2.5 oz

 

 

 

Mrs. Dash Southwest Chipotle
A smokin' blend of red peppers, cayenne pepper, and chipotle chili peppers combined with onion, roasted garlic and lime juice to give your favorite creations a real kick.

For more info, ingredients or nutritional fact, select a size:


2.5 oz

 

 

 

Mrs. Dash Fiesta Lime
Take meals south of the border and turn up the flavor. Made with black and chili peppers, garlic and lime, just a dash adds a zesty twist to your favorite chicken, tacos and guacamole.

For more info, ingredients or nutritional fact, select a size:


2.4 oz

 

 

 

Mrs. Dash Chicken Grilling Blend
A mixture of herbs and spices - garlic, onion, sweet chili pepper, oregano, rosemary and basil - perfect for grilling applications that gives chicken and poultry a great burst of flavor.

For more info, ingredients or nutritional fact, select a size:


2.5 oz

 

 

 

Mrs. Dash Steak Grilling Blend
A combination of herbs and spices - coarsely ground peppers and other seasonings - created to enhance the natural flavor of  meats from steaks to ribs to burgers.

For more info, ingredients or nutritional fact, select a size:


2.5 oz